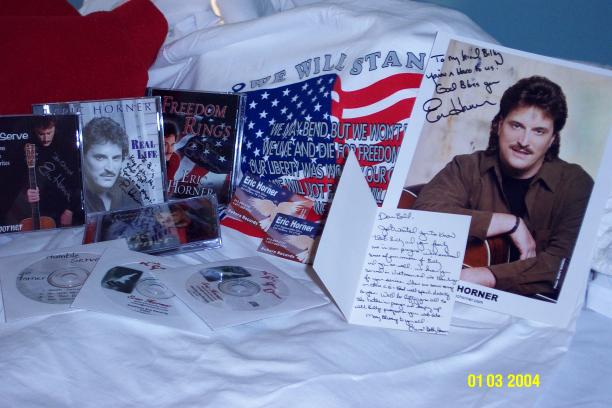 What a wonderful assortment of uplifting things we received from Recording Artist Mr. Eric Horner. "Eric Horner is one of the most anointed and talented Christian Country artists I have heard in many years. His ministry is of the utmost quality in sound and production yet retains that power to touch your soul. His music will make you want to stand up and shout one minute and choke back tears the next. There are many "good" artists out there but maybe only once or twice in a lifetime will you find a "great" artist. Eric Horner is a great artist and minister!" Pastor Eric Jones, Lighthouse International Church, Hampstead, NC
(this quote was taken from his wonderful web site at :
The Eric Horner website
. You see here, that he included many of his CD's (autographed), and one addressed to me dedicated to "Nam Vets", and ALL American Veterans. I encourage you all to visit this wonderful Human being's website, and tell him "Billy's Dad" sent you.
# of visitors to this page since 3-1-2004